Jan

06
Tags
Related Posts
Share This
Middle Path of Acceptance & Change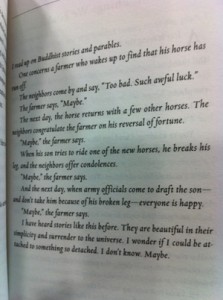 The above is a page from Mitch Albom's 'Have a Little Faith' (which I have not read fully).
Te below are comments on it:
Being attached is an extreme.
Being detached (as in being apathetic) is the opposite extreme.
Being attached to being detached is extreme too, a marriage of the above.
The Middle Path is acceptance of things as they are
while being open to the possibility of them changing,
and of oneself changing things for the better.

Related Article:
Just Like That… For Now
http://moonpointer.com/new/2008/12/just-like-that-for-now