Tears of Sorrow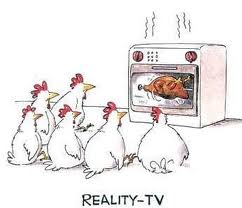 A Tit for a Tat (298)
Tit: (Looking at TV) Look! The animals about to be killed are sad!
Tut: How do you know?
Tit: They are crying!
Tut: Maybe they are tears of joy, because they are about to meet their maker?
Tit: If animals are made by a maker to be killed for food, they would be 'designed' to die happily, and never struggle, scream or cry!
Next aT4aT: http://moonpointer.com/new/2011/04/good-question-answer
Previous aT4aT: http://moonpointer.com/new/2011/04/dream-of-deathwish
About aT4aT: http://moonpointer.com/new/2010/02/logo-for-a-tit-for-a-tat-series