Nov

08
Tags
Related Posts
Share This
Blessing Place or Persons?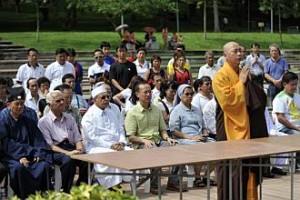 By Royston Sim [The Straits Times]: 'For 40 minutes on Saturday morning, representatives from eight religions took turns to recite prayers at Bedok Reservoir. They were blessing the area after the recent spate of deaths [6 suicides] there. The prayer event by religious representatives from the Inter-Religious Organisation…' (Photo: Raj Nadarajan)
Comments: If the idea was just to bless the area in a general way, it's alright. But it isn't exactly a good idea to have share prayers from many religions if the intention is to urge any wandering spirits to take on a good rebirth – because the mixed messages can be confusing or even frustrating for them? It would be better to check which religions the deceased were inclined towards to help guide them accordingly?