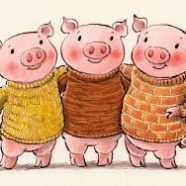 Nov

30
Tags
Related Posts
Share This
Three Little Pigs: Super Short Story #490

Super Short Story #490: Three Little Pigs
After confrontation with the big bad wolf,
the three little pigs decided to live together
to better look out for one another.
It was all-for-one, and one-for-all.
For three-in-one security,
they regathered the blown materials
to rebuild a house of straw
within a house of sticks
within the house of bricks.